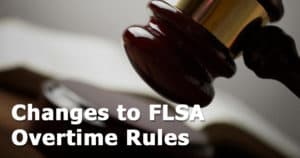 By now you have read (or at least heard) of the new overtime regulations announced in early May by the U.S. Department of Labor.  If you haven't had a chance to read about the regulations, then check out this list of 10 articles I put together.  These articles cover the technical aspects of the new law, how they will affect you and your clients, and how you can plan for them.

U.S. Department of Labor – Publication of New Overtime Regulations (with links to detailed explanation) from the U.S. Department of Labor.  This provides a detailed technical explanation of the regs, including guidance for non-profits, abbreviated Fact Sheets, and other information.
The Society for Human Resource Management gives us the White Paper, What HR Professionals Need to Know About the Labor Department's Revisions to the White-Collar Overtime Regulations.  Here, the SHRM provides analysis of what has changed and what has not changed, as well as what HR Professionals have to do to comply with the new law.
Another well-researched paper by the Berkeley Research Group titled Evaluation Employee Exemption Status According To Revised FLSA Exemption Criteria gives a comprehensive review and analysis of the law that I read.  It includes case studies in addition to analysis of the law.
Why the U.S. Decided That Managers Deserve Overtime Too was published by one of my favorite resources, the Harvard Business Review. I really liked this articles because it was an easy read of the new law and how it affects businesses.
Final Rule Alters Salary Threshold for Overtime Pay from The Legal Intelligencer added a discussion on the financial effects of the law, as well as thoughts on how the law will affect litigation in this area.
For CFOs and other finance and accounting professional comes New OT regs: Pitfalls to avoid, ways payroll can get prepared from CFO DailyNews.  This article gives us a list of roadblocks to compliance and how to overcome them.
11 Remarkable Overtime Rule Tips from DOL Insider from HRMorning.com is a great article because it does NOT simply recite the law.  It digs in and give you specific planning tips and ideas.
Top Tips for Rolling Out the New FLSA Overtime Rules and Avoiding Traps for the Unwary from Miller Nash Graham & Dunn law firm gives you 10 tips to make sure you comply with the new law.
New Overtime Pay Rules: How to Adjust from CFO Magazine, has a nice discussion on how compensation can be adjusted to make sure you stay in compliance with the law.
Looking for a few tips to control costs when complying with the new law?  Then read Implementing the New Overtime Regulations: 5 Steps to Predicting and Controlling Costs from CBIZ.
I know you have read other articles on this subject.  Pass along a link on any articles you liked and we'll pass them along to our readers.