As the New Year arrives, I've created my list of books I hope to read this year.  My goal is to read two book each month.  You ask, "How are you going to do this".  Honestly, I'm not sure I will be able to do this.  But I hope one simple trick will help:  I'm writing it into my schedule to read for 30 minutes at home every day before I leave for my office.  Here's my list in alphabetical order, but you can be sure they will not gbe3 read in this order.  It's a mixture of business books, non-fiction, humor and even philosophy.  And I promise to write a book review after each one I read.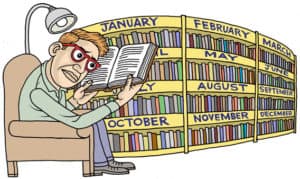 59 Seconds: Think A Little, Change A Lot – Richard Wiseman
A Confederacy of Dunces – John Kennedy Toole
A Curious Mind – Brian Grazer
A Short History of Nearly Everything – Bill Bryson
Business Adventures: Twelve Classic Tales from the World of Wall Street – John Brooks
Creativity – Mihaly Csikszentmihalyi
Creativity, Inc.: Overcoming the Unseen Forces That Stand in the Way of True Inspiration – Ed Catmull and Amy Wallce
Endurance: Shackleton's Incredible Voyage – Alfred Lansing
Essentialism: The Disciplined Pursuit of Less – Greg Mckeown
Fooled by Randomness – Nassim Taleb
Plato and a Platypus Walk into a Bar . . .: Understanding Philosophy Through Jokes – Thomas Cathcart and Daniel Klein
Rework  – Jason Fried
Start with Why — Simon Sinek
Thank You For Arguing: What Aristotle, Lincoln, And Homer Simpson Can Teach Us About the Art of Persuasion – Jay Heinrichs
The Checklist Manifesto – Atul Gawande
The Compound Effect — Darren Hardy
The Effective Executive – Peter Drucker
The Hard Thing About Hard Things – Ben Horowitz
The Innovator's Dilemma – Clayton Christensen
The ONE Thing – Gary Keller and Jay Papasan
The Path Between the Seas: The Creation of the Panama Canal, 1870-1914 – David McCullough
The Professor and the Madman: A Tale of Murder, Insanity and the Making of the Oxford English Dictionary – Simon Winchester
Word Freak: Heartbreak, Triumph, Genius, and Obsession in the World of Competitive SCRABBLE Players – Stefan Fatsis
What If?: Serious Scientific Answers to Absurd Hypothetical Questions – Randall Munroe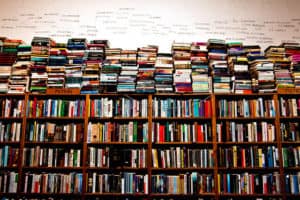 Why This Matters – It doesn't.  I wrote this list out and posted it, to hopefully stimulate you to creating your own 2016 book list.  I don't even know if I'll read 24 books yet alone, these specific 24 books.
Now Do This – Make a list of 12 books, one for each month, you are going to read this year.  Then, post it is the comment section so other readers can check it out and get some ideas for their own list.  So what's on your list?