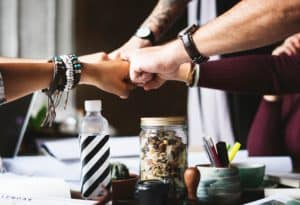 In our last post, we recounted a discussion with Educational Data Systems, Inc., and their observations of a company they were providing consulting services too.
We received great feedback from the story, so we decided to expand on the issues of attracting and retaining talent.  EDSI has refined the key issues every employer must address to move the needle in the areas of talent attraction, development and retention.
#1 – Do you have a clearly defined culture & deeply rooted core values?
Are your core values genuine and consistent with the behaviors of your leadership team and your employees?
If you asked everyone in the organization, would you get the exact same responses?
Do you assess prospective employees based on culture?
Do your owner and key leaders have a servant leadership mentality?
Is there an "us vs. them" divide? If so, what are you doing to break down that divide?
#2 – Do you have a purpose beyond making money?
If so, what is it?
If you asked everyone in the organization, would you get a consistent response?
Do you communicate this to your current and prospective employees?
Do you make a difference in the community?

Volunteering
Charitable donations of time and/or money
Mentoring at local schools
#3 – Do you have a desired employer brand?
If you gave everyone in your organization truth serum, and asked them what it is like to work at your company, what common themes would you hear?
Would you like the responses?
What are people saying about you on Glassdoor, etc.?
What do you want people to say about you?
What are you doing to help shape that narrative?
#4 – Do you have clearly defined career paths for your employees?
If so, are they documented?
If so, are they communicated to prospective employees, as well as your existing employees?
If so, are they realistic?
Are your employees paired with career sculptors, mentors, or leaders that are actively helping them achieve their career aspirations?
#5 – Do you offer workplace flexibility options?
Do employees have the ability to work:

flex schedules
flexible hours
from home (when appropriate)
#6 – Do you have an internship program?
Is it a paid internship?
Are they doing meaningful work?
Do they have meaningful interactions with your leadership team?
Are they paired with a mentor?
Is their internship related to their area of focus in school?
#7 – Do you have a strategy to capture & transfer critical institutional knowledge before your employees leave?
Have you prioritized where you should start?

Criticality of the position
Proximity to retirement

Do you have a checklist for the knowledge you want to capture?
Do you have a viable and effective way to capture and transfer the knowledge?
Do you know where the skill gaps are going to impact you the most?
Have you identified potential successors?

Are they the right person for the role?
Are they interested?
What experience, skills, etc. do they need to acquire before transitioning into the role?
Do you have a plan to adequately prepare them for the transition?
#8 – Do employees have autonomy?
Are they empowered to determine how to complete the tasks they are given?
Are they able to spend time working on projects that align with their deeply rooted interests?
Are they empowered to take risks, and potentially make mistakes?
Answers to some of these questions may have a bigger impact on your business than answers to other questions in this list.  So, like all business issues, you need to prioritize which you are going to attack first.
Special thanks to EDSI for sharing their unique insights in these last two blog posts.  If you need assistance with workforce development, talent or operations, I would love to connect you with their office. Call 248-455-6500 and or email me [email protected]