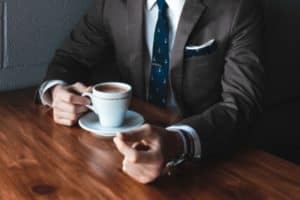 The client had second thoughts.
He was in the middle of selling his business. Nondisclosure agreements were signed, due diligence was conducted, and her had obtained consents from the vendors and landlords.
Then I received an urgent call from the client, "I need to sit down and talk to you right away." Twenty minutes later we were sitting in a coffee shop discussing his second thoughts about the sale.
After listening to his concerns, I asked these simple questions:
Are the facts and circumstances which led to your desire to sell the business over the summer, still present today?
If somebody new came to you today, would you still be interested in selling the business?
Once you sell the business, what are you going to do?
And finally, are you financially able to enter into this sale?
After each of these questions we had lengthy conversations, where I asked more follow-up questions. By the end of our meeting my client felt 100% sure of his next step. He had Confidence and Clarity. Clarity on what he was going to do next and confidence that he was going to be able to accomplish his goals.
Ultimately, the client decided not to sell.
For me, this conversation reinforced what I have come to learn over the last 25 years of practicing law: the role of a lawyer involves much more than simply providing technical legal advice or drafting great documents. 
Rather, the real value is in the conversation with the clients; helping them think about their issues in unique ways, spurring them to consider alternative ideas, and providing them with a road map and a structure to accomplishing their goals.
[perfectpullquote align="full" cite="" link="" color="" class="" size=""]The role of a lawyer involves much more than simply providing technical legal advice or drafting great documents.[/perfectpullquote]
Sometimes a client needs a lawyer.  Sometimes they just need a sounding board.  And sometimes they need both.  Either way, my goal is to help give you, the client, Confidence and Clarity.
Is there some way that I can help provide you with confidence and clarity?   Call me at 248-455-6500 and or email me [email protected]